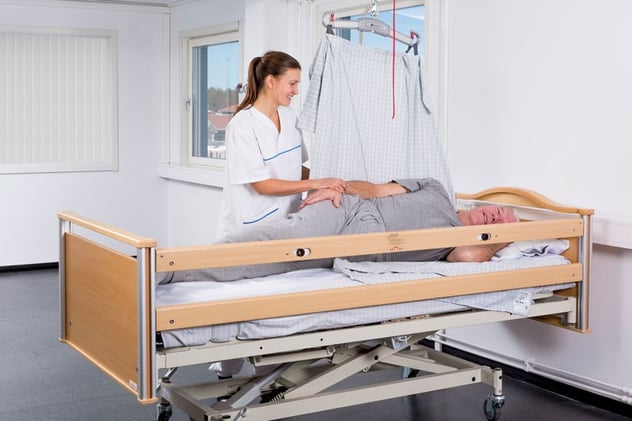 Older clients depend on their carers to assist them to move and transfer from one place to another safely and with dignity. It is necessary for carers to develop the skills to use manual handling equipment efficiently.
Reliable manual handling equipment in aged care is essential for the safety of both clients and carers and improves the quality of client's care. This equipment is a core component of effective patient moving and handling.
Using manual handling equipment in aged care without proper training and correct technique can lead to danger for the patient and the carer. To reduce the risk of injuries, it is necessary for carers to undertake manual handling training on how to use specific equipment for lifting, transferring and repositioning clients.
We offer regular events to learn how to effectively use relevant equipment used in aged care. However, the first step is to understand the various types of manual handling equipment available and determine whether this equipment is suitable for both patient and carer alike.
In this article, we explore the various different kinds of equipment available for carers and their patients, from manual wheelchairs to transfer devices. Read on.
#1. Sliding Sheets
Sliding sheets are a comfortable and functional slide (or drawsheet) to make patient transfer simple. These sheets are made from durable materials and can be slid sideways as well as upwards and downwards, so patients will remain comfortable and safe during transfer.
#2. Transfer Belts
Transfer belts provide patient support and reassurance during transfers and manoeuvres. These belts offer mobility in a rehabilitation or hospital setting, with non-slip lining on the inside of the belt to grip the patient's clothing and prevent the belt from riding up.
#3. Transfer Boards
Transfer boards offer assistance when transferring seated patients to and from wheelchairs, beds, toilets, car seats, and many other seated positions. They can also help level out the height between the carer and the patient, and assist with transfers within a short distance.
Many transfer boards are flexible, foldable and easy to transport.
#4. Mobile Hoists
A mobile hoist is a versatile piece of equipment with wheels that can be moved along the floor. These hoists can be used for lifting a client inside a sling or on a stretcher designed for use with hoists.
This manual hoist on wheels also has the benefit of being lightweight and simple to use, so carers and patients can feel comfortable and safe during transfer.
#5. Ceiling Hoists
A ceiling hoist is attached to a permanently mounted ceiling track. It is designed to move a client inside a sling. Gantry hoists, on the other hand, have overhead tracks mounted on wheeled frames.
Ceiling hoists are designed for use by caregivers and health professionals to lift and transfer a patient in a homecare, assisted-living or hospital environment.
#6. Slings
A sling is a form of lifting support for carrying a patient while in a hoist. There are a wide range of manual handling slings available, including:
Loop slings: General purpose slings, general purpose slings with head support, care slings, amputee slings, walking slings
Clip slings: Pivot slings and pivot care slings
Standing transfer slings: Standing transfer slings and super soft standing slings
Lateral transfer slings: Comfortable sling solutions for repositioning in bed and transfer in a supine position
In-situ slings: General purpose and pivot slings made with fabrics that help reduce pressure to vulnerable areas of the body, allowing patients to remain seated for longer in comfort
Replacement slings: Active Mobility Systems can provide replacement slings from brands like Allegro, ArjoHuntleigh, Freeway, Guldmann, Invacare, Liko, Oxford, Promed
Disposable slings: Developed to combat cross-contamination of patients through the sharing of soiled fabric products, these slings are available in loops or clips. Bariatric sizes are available.
#7. Stretchers
The transfer stretcher allows for transfers in the lying position, more specifically for bathing.
The inclined ends of the stretcher ensure the patient's comfort during their immersion in the water. Its design allows access to all medical baths, and a large width for total safety during transfer.
#8. Wheelchairs
This is one of the most important pieces of equipment used in aged care facilities as it's cost-effective and allows you to transport a patient from point A to point B in absolute comfort and care.
Both legrests and armrests are typically removable or swing-away and offer a folding steel frame for extra durability. These wheelchairs offer back, leg, and arm support as the patient is transferred.
Learn more about manual handling equipment in aged care with Active Mobility Systems or shop equipment online today
At Active Mobility Systems, we have extensive experience in the delivery of manual handling training for carers, therapists and support staff. We are happy to provide training to individuals or whole organisations.
Contact our sales team today to learn how to effectively use relevant equipment used in aged care, or shop our incredible range of manual handling equipment online. We offer flexible and cost-effective shipping, so you can provide the best patient care possible.
Shop online!